For many retailers, it is both the best of times and the worst of times.
On the upside, retail sales continue to increase, with NRF forecasting total sales growing 6-8% to more than $4.9 trillion in 2022.1 Yet, while retail growth is moving fast, returns are moving even faster. In the last six months alone, 79% of people have returned two or more purchases, a 16% increase compared to 2021.2 And with returned merchandise in the U.S. being valued at a whopping $761 billion last year,3 how much retailers could stand to lose in 2022 is a number that can't be ignored.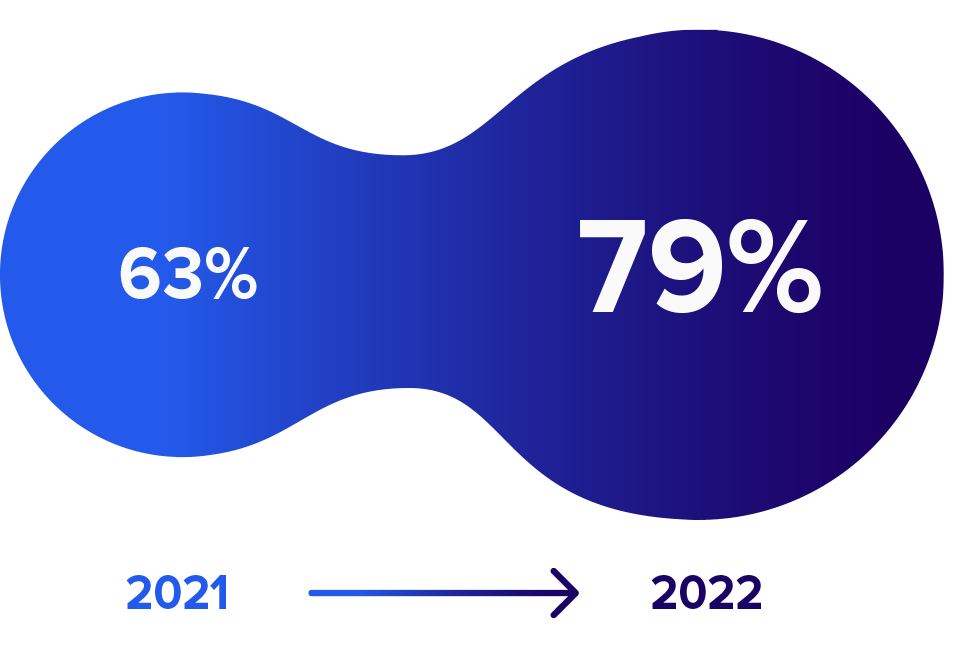 Here's the good news: this rise in returns could be a huge opportunity to unlock increased revenue and customer loyalty. In fact, the more a customer buys from a retailer, the more likely they are to make a return to that retailer—54% of people have said that they have been "repeat returners" at retailers they shop with frequently at least somewhat often. Meeting (and ideally, exceeding) these customers' returns expectations can make the difference between a lifetime brand loyalist and a single scathing review.
However, there is a bit of not-so-good news: the definition of what constitutes a "good" experience isn't always the same from customer to customer. It all depends on what they prioritize most when making a return, and how well a retailer's returns experience can stack up.
So, what exactly are those priorities, and how can retailers create a single returns experience that fulfills all of them? Optoro recently surveyed 2,000 US consumers to ask what factors and features are most important when making a return, including what types of returns experiences are most likely to compel them to shop with a retailer again and again.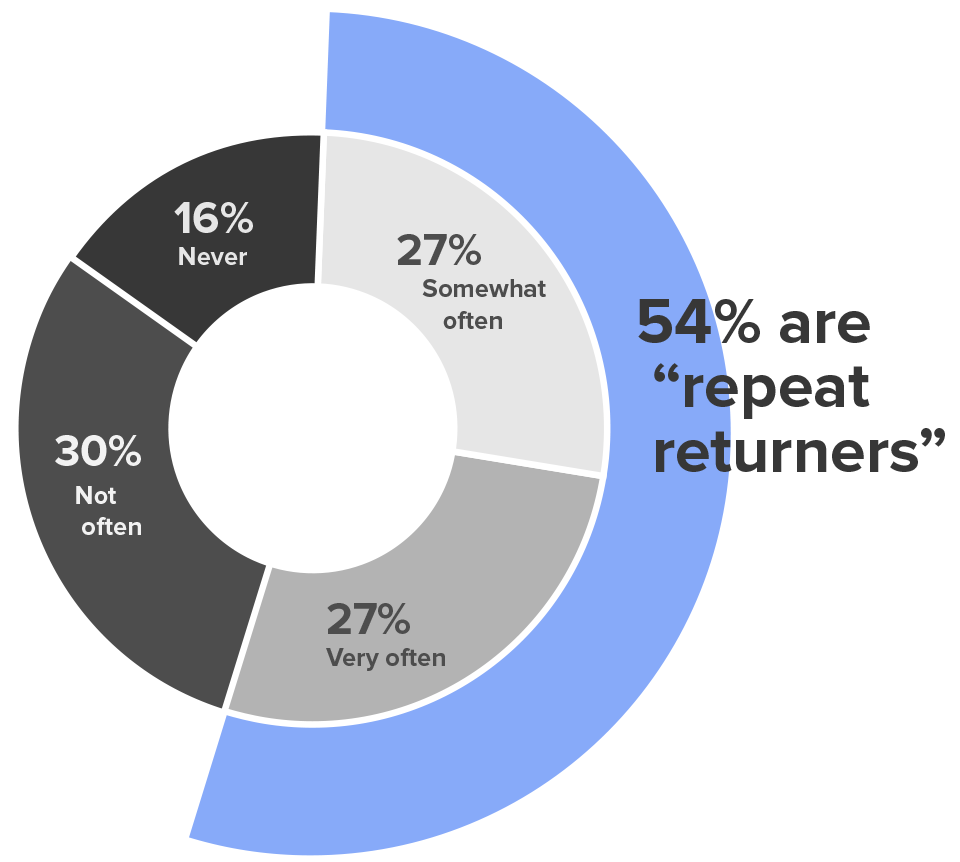 Convenience vs. Immediacy
The Hidden Forces Behind Returners' Behaviors
In the "Age of Amazon," it may feel like every customer expects retailers to offer all known returns options at the fastest speed, lowest cost, and least amount of effort to complete. However, it turns out today's consumers typically value either immediacy OR convenience in their shopping experience, and will base their decisions primarily off one of these two motivations.
Inside the Minds of Both Buyers
In order to understand what returns features each set of customers value most, we first need to understand who they are and what they value from the shopping experience as a whole. Here is what we found.



Convenience-Driven
Motivated by finding the most convenient means of shopping and returning as possible, even if it means taking longer to obtain the right items.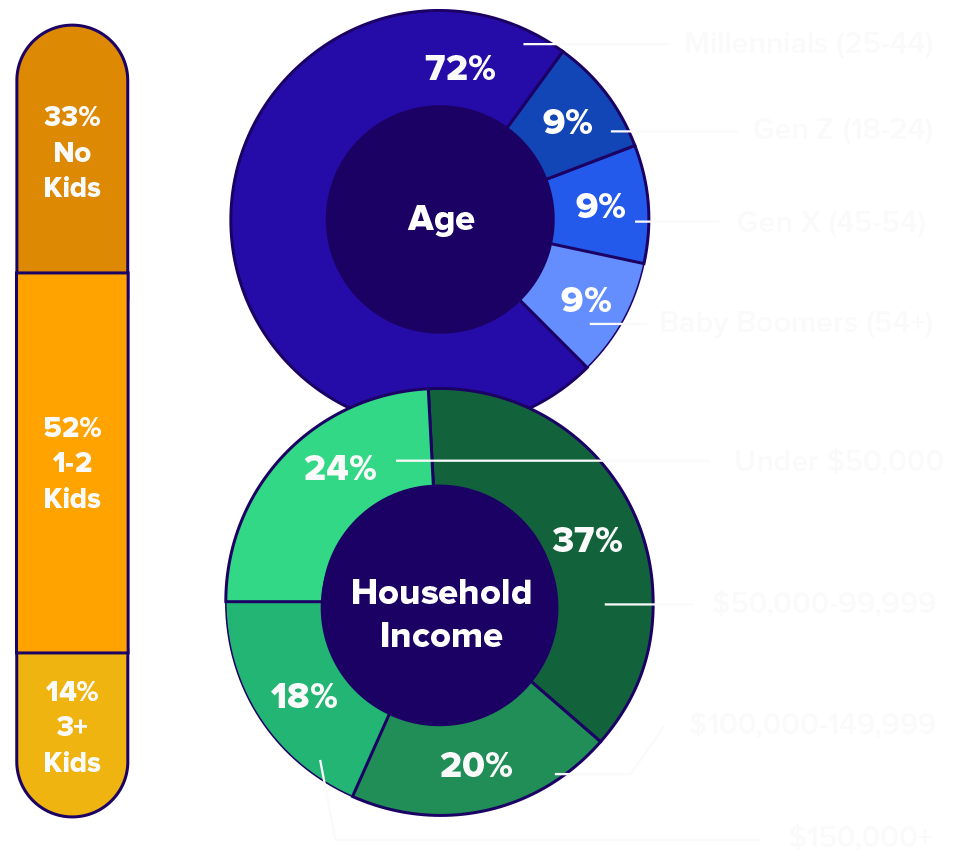 Immediacy-Driven
Motivated by receiving their anticipated items/experience as quickly as possible,
even if it requires more effort on their part.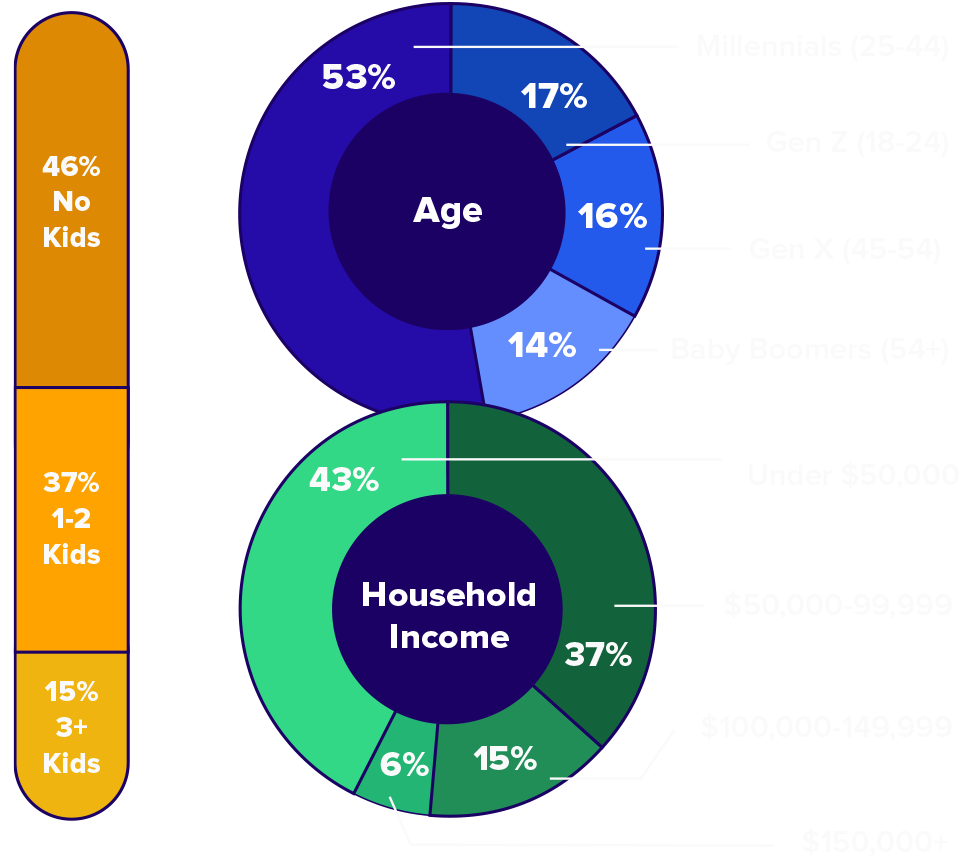 Convenience-Driven
Preferred shopping method: Online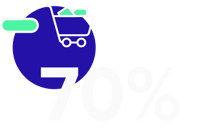 say shopping online is quicker and more convenient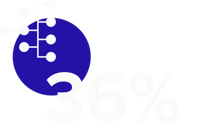 are very likely to bracket merchandise in order to find an item they like
"By the time I get home from work, I'm too tired to go out and shop"

Immediacy-Driven
Preferred shopping method: In-store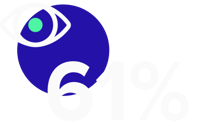 want to examine/try on items in person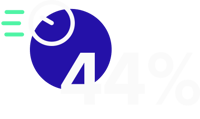 don't want to wait for an item to be shipped
"There are too many poor quality items and no way of knowing beforehand when buying online"
How They Like to Make Returns

Convenience-Driven
Preferred method of initiating a return: Online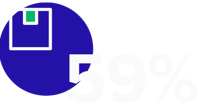 find it more convenient to ship a return rather than return it to a retailer's physical store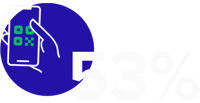 prefer using an online portal to start their return as opposed to contacting Customer Care or receiving a label in their box.

Immediacy-Driven
Preferred method of initiating a return: in a physical store (either the retailer's or a third-party drop-off location)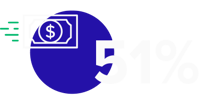 cite wanting to get a refund immediately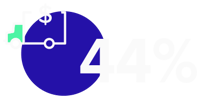 don't want to pay for return shipping
When and Why They Make Returns

Convenience-Driven
Most likely to actually send back/drop o a return within 3-4 days of initiating the process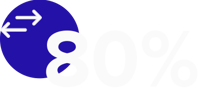 will make the return within 6 days after initiation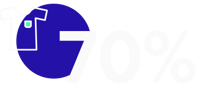 reported simply keeping an item they didn't want rather than enduring a costly and inconvenient returns process
Likely to keep an item to avoid inconvenience if its value is less than

Immediacy-Driven
Most likely to actually send back/drop o a return within 1-2 days of initiating the process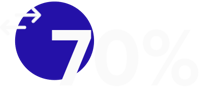 will make the return within 4 days after initiation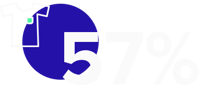 reported simply keeping an item they didn't want rather than enduring a costly and inconvenient returns process
Likely to keep an item to avoid inconvenience if its value is less than
How to Win With One Returns Experience
Knowing now that consumer's shopping priorities come from two different schools of thought, the idea of creating a returns experience that keeps both sides happy may seem daunting. However, meeting the needs of everyone involved—even retailers—can be achieved by implementing returns processes and features that prioritize BOTH of these values at the same time.
Implement Easy Online Exchanges
Among convenience and immediacy-driven buyers alike, a whopping 80% reported making some sort of exchange during a returns process in 2021, either for a variation of the same item or for an entirely new item. What's more, 67% of consumers said they would be likely or very likely to exchange an item online if it was made easy for them to do so.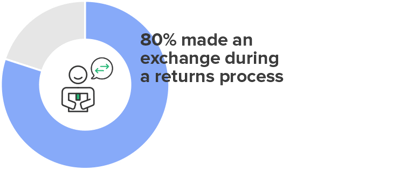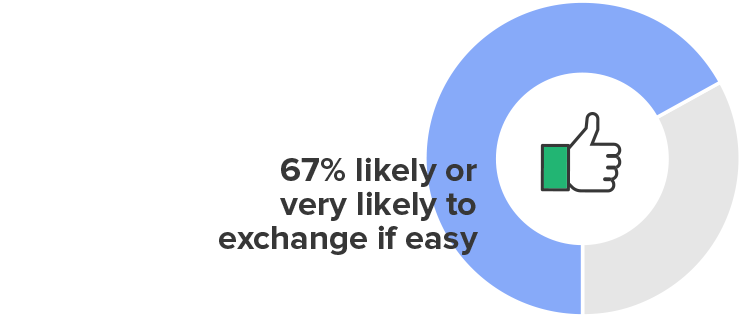 Why it works for convenience-driven buyers
Easy exchanges make it possible for this group to make a return and obtain the right item with minimal effort; no extra steps or trip to a physical store required. The option to quickly make an exchange can also encourage this group to reduce their bracketing behaviors, as trying out multiple variations of an item is relatively hassle-free.
Why it works for immediacy-driven buyers
Exchanges can provide that level of in-store instant gratification that these buyers typically seek. With easy exchanges, there's no waiting for a refund in order to shop again, and no waiting for time to travel to a physical store location; in a few clicks, their new merchandise is on the way.
Why it works for retailers
If retaining revenue is a top priority, offering easy exchanges is the way to do it. Just imagine if 67% of the returns made last year were converted into exchanges—that could mean a significant increase in average order values. By offering customers the chance to instantly select a new item, no waiting or hassle required, retailers can keep the revenue from the original sale while creating an easy experience that can turn delighted buyers into lifetime purchasers.
Simplify "Sending It Back" With Third-Party Drop-Off Locations
Don't make customers trek out to a physical store for the fastest refund or a post office to conveniently ship an item back. Third party drop-off locations are quickly becoming shopper's online return method of choice, with 37% of all consumers preferring this method and 82% citing it as easier and more convenient than shipping an item with a box and label.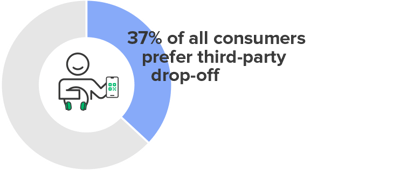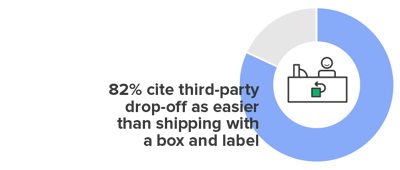 Why it works for convenience-driven buyers
Added returns locations instantly increase the odds that a drop-off option is close to customers, which makes completing the return far easier and more efficient, especially if no box or label is required.
Why it works for immediacy-driven buyers
Replace the fear of blindly shipping out a package with no way of knowing if and when it'll be received. Third-party locations give these buyers the peace of mind that their return has been confirmed and physically put into the returns process, without the need to track down a retailer's store location.
Why it works for retailers
Get items out of the hands of customers and back onto store shelves faster than ever. Third party drop-offs encourage faster returns from consumers as a whole, with 64% dropping off returns within a week of initiation and 27% returning within just 1-2 days. Quicker drop offs means faster restocking of inventory, minimizing out-of-stocks and out-of-season inventory pile ups. Better yet, consolidated drop-off returns reduce the time and resources required to ship items back to facilities, cutting down on costs and carbon emissions.
Consider Offering Customer Keep
61% of all consumers have cited keeping items rather than returning them due to the hassle of the returns process. That means well over half of shoppers have found a returns process so costly or inconvenient that they were willing to sacrifice their refund. That has to be leading to some poor customer satisfaction, not to mention some seriously skewed returns tracking for retailers.
Instead of forcing customers to choose between cost/convenience and getting the right item, consider allowing them to keep items below a certain price threshold rather than asking to send them back.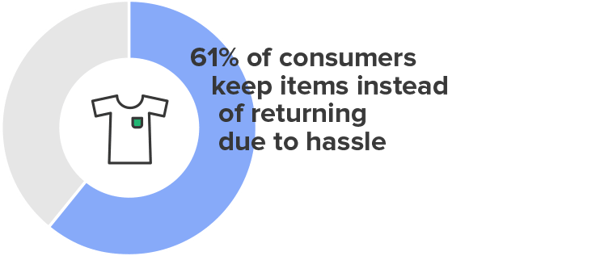 Why it works for convenience-driven buyers
Nothing can drive these buyers away like a cumbersome, frustrating returns experience. Offering the opportunity to keep a lower value item rather than return it drives up the convenience factor, creating a great customer experience these shoppers aren't likely to forget.
Why it works for immediacy-driven buyers
The more steps added to the returns process, the more likely these buyers are to write the retailer off for good. Especially since this group has a lower threshold for what they deem too valuable to not return ($25-50), providing a way to immediately resolve a return AND get a refund will likely drive loyalty way up in their books.
Why it works for retailers
While this method may feel counterintuitive to smart business, allowing customers to keep products they want to return not only improves their experiences, it also cuts the resources and operational costs required to get these lower value items back to facilities. Additionally, customer keep also decreases the environmental impact of returns processes, something 57% of consumers have reported being likely to consider when choosing a returns method.9
The Moral of the Story
For many, returning an item is top of mind long before they even buy it. According to previous Optoro data, 89% of consumers who recently made a return checked the retailer's return policy before they even bought the item.3 With returns becoming less of an "if" and more of a "when," having a "good enough" returns experience is no longer an option. While the ongoing rise in returns may seem like the ultimate villain in retailers' success stories, they can, in fact, be the hidden hero. By understanding the personal priorities of shoppers, retailers can recognize and reflect those values in their returns processes, creating an experience that gives all customers their own happily ever afters.